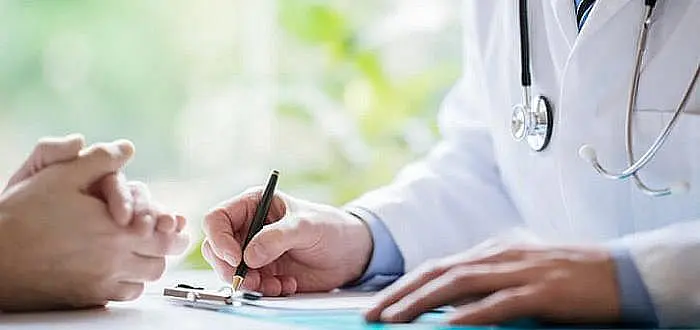 Medical records are a critical component of a disability claim. While including a doctor's letter may also support a claim, a letter that is not specific enough or gives the wrong impression of an applicant's disability could result in a claim denial. The best way to avoid these common mistakes is to consult our disability lawyers at Disability Attorneys of Arizona. Our legal team has a well-deserved reputation for being dedicated advocates of the disabled. We understand the complex medical and legal issues involved in disability claims and have a proven history of helping our clients obtain the benefits they deserve.
Should my doctor write a letter if I am applying for disability benefits?
While a doctor's letter may be a deciding factor in a disability claim, it is not enough to state that you are completely disabled and unable to work. This type of statement can actually hinder your case. In any event, a doctor's letter should not be included with the initial application.
If your claim goes to the appeal level, a doctor's letter — referred to as a medical source or residual functional capacity (RFC) statement — must specify why the doctor believes you are disabled and unable to work. To meet the Social Security Administration's requirements, the statement must indicate your diagnosed condition, the date of the diagnosis, as well as the prognosis of the condition. Generally, to be eligible, your medical condition must have lasted, or be expected to last, for 12 months or result in death.
In addition, the doctor's statement should explain the ways in which you are functionally limited and how the condition limits your normal daily activities. In particular, the letter should address issues such as your:
Physical strength level
Range of Motion
Limitations — walking, bending, lifting, balancing
Sensory deficits — sight, hearing, touch
Cognitive deficits — trouble retaining information, learning information, concentrating
Any other physical limitations
It is important to note that the statement should be submitted by your treating physician who has an extended history of treating your condition.
Common Mistakes When Applying for Disability Benefits
Two common mistakes made by disability claimants are failing to appeal and not receiving ongoing medical care. Often, applicants who have been denied mistakenly believe that an appeal will also be denied. The fact is that nearly two-thirds of initial benefits claims are denied, often for technical reasons, and many applicants are found to be disabled in an appeal or at the hearing level. By working with an experienced disability benefits attorney, you increase the chances of your claim being approved.
In addition, claimants who feel as if medical treatment is not helping may decide to stop receiving treatment. This is obviously a mistake because records of medical treatment are important evidence in a disability claim. If you stop receiving treatment, your claim will likely be denied.
What is a consultative exam?
If the medical information does not support your claim, you may be required to undergo one or more consultative exams, the findings of which will play a key role in whether your claim is approved or denied. These exams may be routine physicals, neurological exams, radiological tests (X-rays, CT Scans), mental status exams or other tests, all of which are paid for and scheduled by the Social Security Administration (SSA).
Consultative exams are conducted by doctors who are contracted to independently perform examinations and submit a report of findings to the SSA. While a consultative exam may provide an examiner with an update of your medical condition that supports the medical evidence already on file, such exams don't carry the same weight as your entire medical history. At the same time, a consultative exam may lead to a claim denial if it does not substantiate your claim.
In any case, a consultative exam only demonstrates your physical capabilities or limitations at the time of the exam, without providing comprehensive information about your medical condition. This makes it unlikely that a consultative exam will be able to assist your case. Nonetheless, if you fail to keep these appointments without a valid reason (e.g. medical emergency, transportation issues), your claim will be denied.
The Experienced Choice in Disability Benefits
When you consult Disability Attorneys of Arizona, you can rest assured that we will guide you through every step of the claims process and fight for the benefits you deserve. If your claim has been denied, our proven track record of successfully appealing benefit claims will serve you well. We will work with your treating physicians to make sure that the medical record supports your claim. If a disability hearing becomes necessary, a doctor's statement could help to support your claim, provided that it meets the requirements of the SSA. If you or a loved one has suffered a disabling medical condition, you may feel frightened and alone. Remember, we are here to help. Please contact our office to schedule a free case evaluation.